NEW TO BEYOND BOULDERING?
If you're a first-time visitor to Beyond Bouldering, you must complete a waiver and Safety Induction before starting your climb. There's no need to make a reservation, as you can arrive at any time. For those who are under 18 years of age, a parent or legal guardian must sign the waiver.
At Beyond Bouldering, we use colour grades to rate the difficulty of a bouldering problem. We have climbs suitable for the complete beginner to the experienced climber.
The start of the climb is indicated by a "start left hand" and "start right hand" tags or with a single "start both hands" tag. You will also find a colour tag to indicate the difficulty of the climb. The hold colour does not relate to the difficulty, but only one hold colour is used for the boulder problem.
The goal is to climb to the finish hold, which is identified by a "finish" tag, using only holds of the same colour.
As you move up through the grading scale, the climbs become progressively more challenging.
The gym is divided into sectors, with one sector being reset each week, ensuring that you always have new boulder problems to tackle every week!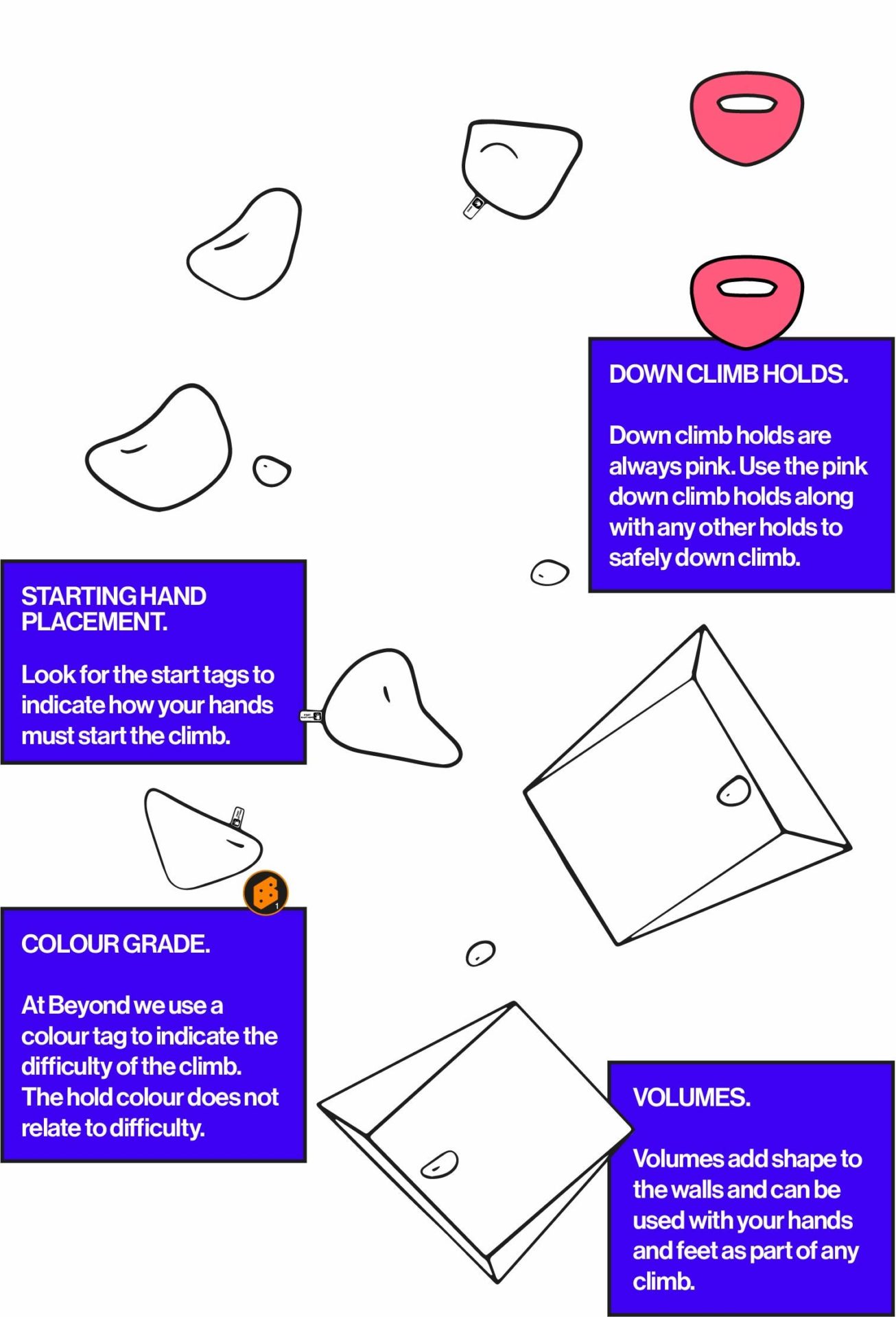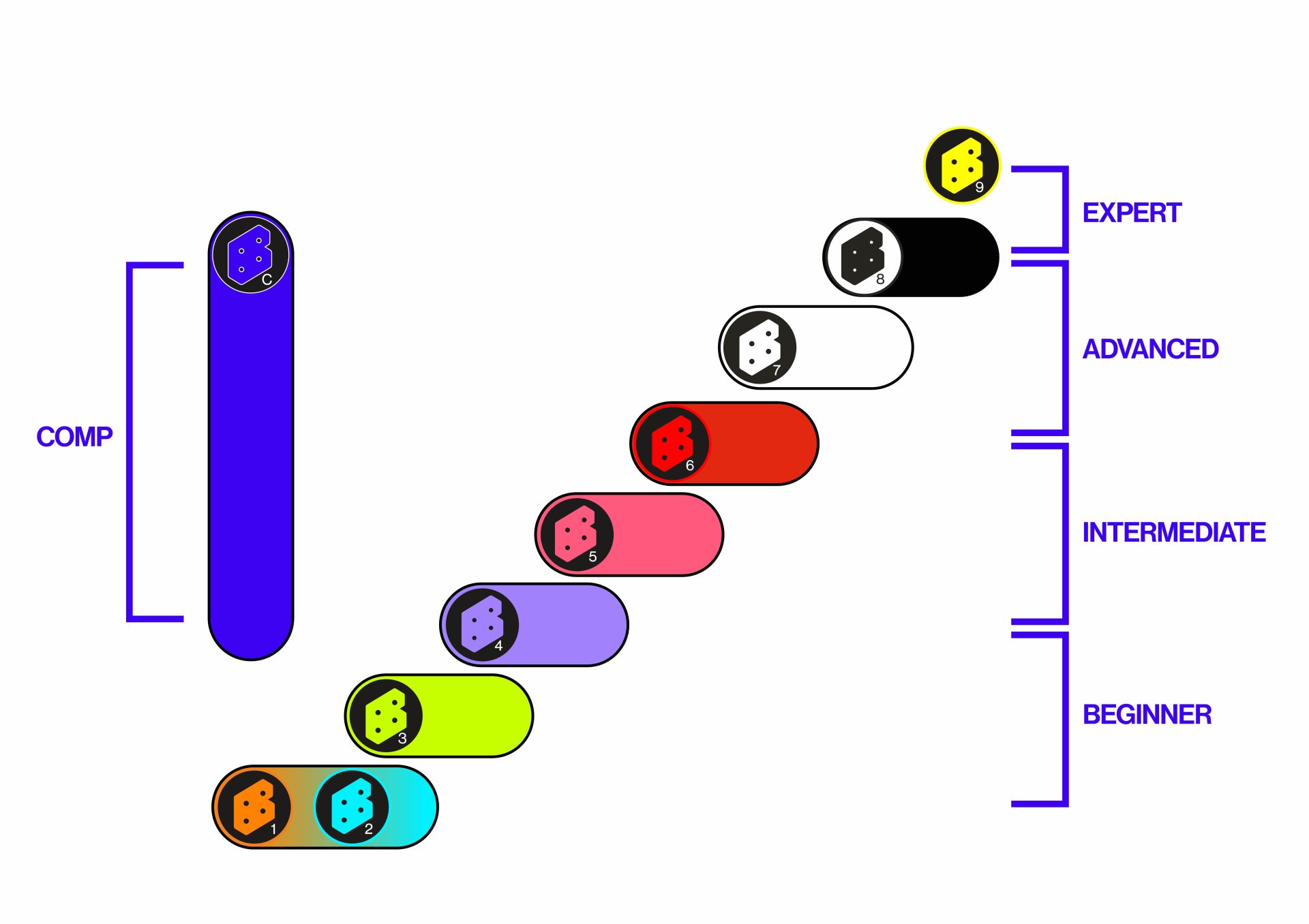 Check-in before you climb – All climbers are required to check-in at the front desk or member's kiosk before climbing.
All new climbers to Beyond Bouldering must read and complete a safety questionnaire, waiver and demo climb.
Down climb whenever possible.
Respect other climbers – Avoid climbing below or next to someone who is already on the wall.
While spectating or waiting to climb, avoid standing on the mats where possible or stay within the taped safe zones.
Only climb to a height you are comfortable with. Participants are responsible for their own safety and actions.
Children under 12 must be accompanied by a responsible adult. Parents are asked to keep a watchful eye on their children at all times. Please refer to our extended "Rules for Children".
No food or drink on the climbing mats.
Beyond Bouldering has a no drug and/or alcohol policy.
Keep chalk in enclosed chalk bags to prevent unnecessary spillages around the gym.
No Beta Spraying – ask before giving advice, problem solving is the fun part!
Brush holds regularly – If you see another climber brush a climb, allow them to have the first attempt. Alternatively, ask if you can jump on if they are resting.
Tick marks on the walls or climbing holds should be brushed off to maintain a clean and professional environment.
Be considerate of other climbers by taking turns when climbing.
Shoes and shirts are to be worn at all times.
Pack away and wipe down gym equipment after use.
frequently asked questions.
What is bouldering?
Bouldering is a type of rock climbing that is becoming increasingly popular around the world. It involves climbing up small to medium-sized rock formations, known as boulders, without the use of ropes or harnesses.
Our indoor bouldering gym offers a range of climbing walls that simulate outdoor terrain, including overhangs, slabs, and vertical faces, with soft mats placed beneath to cushion your fall. Indoor bouldering is an excellent way to improve your strength, balance, and flexibility, while also challenging your problem-solving skills. Our routes are designed to cater to climbers of all levels, from beginners to experienced climbers, and our trained staff is available to guide and support you.
Bouldering is a great way to connect with a community of like-minded individuals who share a passion for climbing. It requires strength, balance, technique, and problem-solving skills to navigate through challenging routes and reach the top!
I've climbed at other gyms, do I still need to do the safety demo?
Anyone who wishes to climb at Beyond Bouldering must complete our waiver and safety induction before they can climb, regardless of any prior experience.
If it has been over a year since your last visit to Beyond Bouldering, you will be required to update your waiver and safety induction.
Do you have gear hire available?
We have shoe hire available for $7 and liquid chalk hire available for $5.
All climbers MUST wear climbing shoes when climbing.
Can i climb solo?
Yes! Bouldering can be enjoyed both solo or with friends. The community is also very welcoming, so you will be sure to make new climbing buddies!
what should i wear?
We recommend comfortable activewear that allows you to move freely.
If you require shoe hire, remember to bring socks with you.
Do I need to book?
No! You can rock up at any time during our open hours. A day pass allows for 1 day of unlimited climbing.
Bookings are required for groups of 10 or more. If you would like to make a group booking, you can do so here.
is there a minimum age?
Yes, children must be a minimum of 8 years old and 120cm tall.
I've never climbed before, is bouldering suitable for beginners?
Of course. We accommodate every ability, from complete beginners to experienced climbers.
Do you offer beginner classes?
We sure do!
For those new to climbing and wanting to learn the basics we offer classes at all our venues. These classes are FREE when you sign up to our 3 week starter pack.
We also offer intermediate classes and private coaching for those who want to take their climbing to the next level.